Barchan Legal
Barchan Legal's activities are an innovative formula of a legal firm that renders services using the most current IT solutions. We regularly implement solutions and technological novelties that not only enhance our business processes, but also increase our Clients' satisfaction and enable us to offer new forms of providing legal services.
Clients and their needs are the centre of our attention. Clients' problems and aims become ours, and solving or achieving them is what drives our joint activities. Our services are not only the engagement and time we spend on performing a service, but most of all the value delivered to our Clients. We want to be a trusted advisor, not merely a service provider.
Our values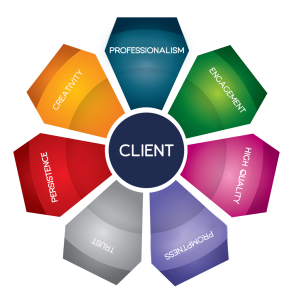 What we do?
Barchan Legal offers a broad range of specialist legal services in i.a.: , intellectual property rights, IT and new technologies law, civil law, contract law, commercial and company law, corporate services, commercialisation of scientific research results, as well as ongoing legal services for entrepreneurs.
We have gained our experience rendering services to Polish and foreign Clients. We are professionals and strive to provide the highest quality of services, which earns us the trust of our Clients. Our expertise and cooperation with specialists in many areas of law allows us to provide comprehensive support to entrepreneurs, associations and foundations, but also public finance entities.
We provide comprehensive legal advisory to entrepreneurs, including start-ups, we offer support in establishing, business development and day-to-day company matters. Business requires practice and is an everyday struggle for the achievement of goals. We understand that and actively support our Clients in running their businesses. We minimise the unnecessary theoretical aspect of advisory services and give clear and comprehensible counsel.