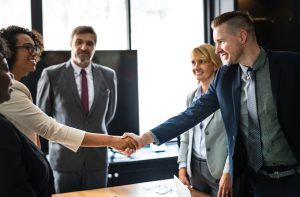 Correct contract content is the basis of the proper functioning of the parties of business relations and is essential for the correctness of project execution. A significant number of disputes between entrepreneurs concerns failure to perform or improper performance of the contracts they have concluded or contractual settlements (payment of the contractual price or remuneration).
Our firm provides its Clients with comprehensive contract management services: analysis and drawing up the framework of contracts, including legal solutions that best and fully reflect the Client's business expectations. We offer our assistance in the management of internal procedures that regulate entering into contracts with counterparties. We support our Clients in dispute resolution matters, representing their interests outside and in courts.
Our services include preparing drafts and templates of contracts (also international), negotiations and providing support at the stage of contract termination. We develop and review general agreement terms, general sales conditions, general terms of service and similar documents.
We offer our Clients packages for day-to-day and project-based legal support. Moreover, we adapt our services to the Clients' actual needs and present a broad scope of services that meets their expectations. We analyse contracts as regards high contract risk, we introduce changes into projects as required, and tailor-make new contracts for our Clients, taking into account their needs and goals.
If you need support in negotiating particular conditions of contracts only, our firm will assist you during meetings and teleconferences. For this purpose we highly recommend our product – E‑Negotiations, which you will find in our Products section.